The Vienna Inn has been a landmark and tradition in Vienna, Virginia for 60 years now. Check out these words and images of the place that's "comfortable as an old pair of shoes."
Vienna Inn Marks 33rd Anniversary
Excerpted from The Connection, February 24, 1993
If nostalgia could be found in a bottle, its label would read "The Vienna Inn". Draped in smoke and the smell of chili dogs and beer, the Inn celebrated its 33rd anniversary Monday by selling draught beer for a price befitting the occasion -- 33 cents.
During a break from behind the bar, Philip Abraham, owner Mike Abraham's son, spoke about the family business he has been involved in for the past nine years. Abraham, 30, works full-time managing the bar with his father, 73.
Mike and Mollie's Food, Friendship
For 25 Years, Customers -- and Waitresses -- Have Remained Loyal to Vienna Inn, Owners
By Barbara H. Blechman; The Washington Post
Excerpted from The Washington Post, October 17, 1985.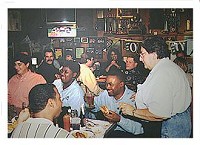 When Meyer H. (Mike) Abraham repaired the leaky ceiling in the Vienna Inn last year, it almost cost him his customers.
"Yeah, everybody got really mad at me and said the old ceiling had class before," he said with a grin. "The only reason I fixed it is because I couldn't nail up strips to patch it anymore. The nails kept falling out."
Not much else has changed at the Vienna Inn since Mike Abraham and his wife Mollie bought the business on Maple Avenue in downtown Vienna 25 years ago: not the beer, not the customers, not the wobbly wooden booths and not even the waitresses, Erma L. Parker and Dolores Knisley, two sisters who have worked there since before the Abrahams moved in.
More stories from the infamous Vienna Inn
You will need Adobe Reader to view these files
"Vienna Inn Marks 23rd Year with a Sudsy Celebration", The Fairfax Journal, March 2, 1983
"It's Chili While He Waits", Washington Post, July 20, 1986
"Breakfast Champions", Washington Post, Oct. 22, 1993
"Recycling old, familiar trail", The Washington Times, June 26, 1997